History - Part 3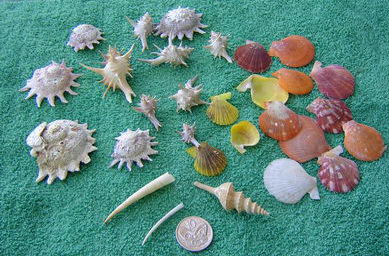 What I recommend for such larger vessels is they use a break off link because without one if you drag your dredge into a heavy object on the seafloor with a large vessel something is going to break! How a break off link works is by tying a small float to the boat end of the tow rope and then tying a short length of 6mm main line from the end of your tow rope to the stern. The 6mm main line is 600kg breaking strain – half that of the main tow rope. Donaghy's main line is floating rope but if there is a current running it will take your rope down and the float will stop this happening. You can return to the float and pull the dredge away in the opposite direction recovering your dredge.
For small vessels six metres and under I find towing with a yoke or ski pole the best. I use a yoke attached to each side of the stern with a pulley in the centre attached to the main tow rope. This allows the boat to maintain full manoeuvrability while towing your dredge. A break off link can be added to the yoke if desired.
Tow speed is another very important part of operating your dredge. Hydrofoil dredges are designed to push down on the seafloor but will not develop adequate down force until towed at the correct speed. I recommend 4 - 4.5 knots with my dredges for optimum performance.
Over the years I have heard a lot of different comments about scallop dredging – one comment that alarmed me was at the National Boat show in Hamilton. Several people told me that 'by law when dredging you must hold the tow rope in your hands'. At first I thought they were joking but by the end of the show I realised that they were serious. I can assure everyone this is simply not true and I hope nobody in the future tries this, I can guarantee serious injury will be the result of this practice.
Scallop dredging can be quite exciting at times and you never know just what you will find in the dredge net. It's not uncommon to catch Flounder, Stargazers, Red Gurnard and Octopus. Sea shell collectors find dredging rewarding – I have recovered Tusk shells, Spiny Murex and Circular Saw shells all in perfect condition to mention just a few. Unfortunately another by catch often encountered are beer bottles, tin cans and even boat batteries, but at least this gives you the chance to take them home and dispose of them properly.
With each dredge dispatched to my customers I include an illustrated step by step guide and my contact details. If anybody has any questions before or after purchase I am more than happy to help out and am happy to chat with fellow scallop dredges at any time
I receive a lot of feedback from my customers including an email from a customer in Invercargill with photos attached some time ago telling me he was catching around 300 dredge Oysters in five minutes. That and other feedback I receive from all over New Zealand is very helpful to me not to mention satisfying. One thing that has been happening in the last year or so is customers coming to my home here in the Marlborough Sounds to get their dredge directly from me in person. In doing this I have been able to go out on to the scallop beds and show them the finer points of operating their dredge. This gives them a good start and allows them to really enjoy their time scallop dredging.
The End